Classic Mustang Dataplate Decoder
Obtain a list of original options for your Classic Mustang based on the codes stamped on your Mustang's door dataplate. Works with all 19641/2 through 1973 Mustangs.
Enter the information as it appears on your door dataplate, or visit our instruction page for more information.
Custom design dataplate forms:
For data entry forms that more closely match your dataplate. Select your year Mustang:
1965 | 1966 | 1967 | 1968 | 1969 | 1970 | 1971 | 1972 | 1973
The Mustang and Cougar Tag Book
Available from Marti Auto Works. Find out what all the codes mean on other tags located throughout your Classic Mustang or Cougar.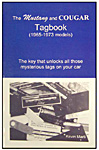 ---