Reproduction Door Plates:
Is your door data plate missing or damaged? Replace it with a EXACT reproduction of your original.
Marti Auto Works offers exact reproductions of door data plates for 50's, 60's and 70's Ford vehicles. Prices start at $20.00. They also reproduce Build Tags, Engine Tags, Carb Tags, Axle Tags and more. Original documentation may be required.
If you have a 1967 or later Ford, we recommend that you get a Marti Report too. Starting at only $17.00, not only do you get the exact codes that would have appeared on your original door dataplate, but you can get even more information about your vehicle like original options, production dates, etc... It is also a great way to validate the originality of any 1967 or later vehicle. (Sorry, there are no reports available for 1966 or earlier Ford vehicles)
Visit their new web site for more information or call at (623)935-2558. Tell them you heard about them from the Mustang Secret Decoder web site.
The Mustang and Cougar Tag Book
Available from Marti Auto Works. Find out what all the codes mean on other tags located throughout your Classic Mustang or Cougar.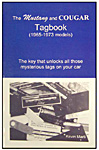 ---